The Hentai Poster Company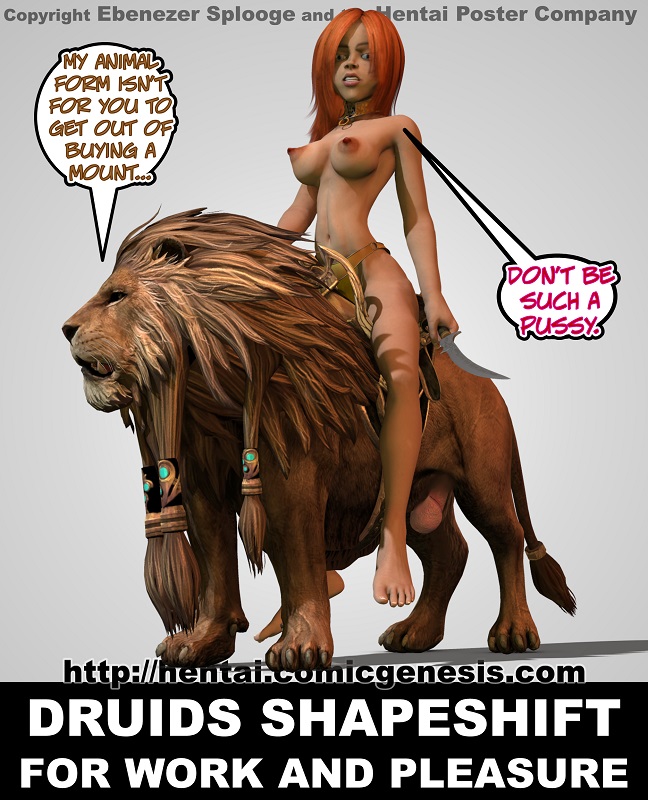 First comic Previous comic Next comic Latest comic
The Hentai Poster Company from the mind of EbenezerSplooge.com creator of the medieval fantasy hentai comics PronQuest.com and Mammazon.com
and the science fiction porn comic PortcallUranus.com. Mass purveyor of cartoon porn humor and funny hentai creations since 2008 for a complete list of hentai and adult
comics visit PronQuest.com. Most of the models in these porn poster memes are characters from my hentai adult comics which can be found via EbenezerSplooge.com.
A busty teen slut reporting for a good hentai fucking from the perverted school principal.
A red haired slut with big tits about to get a porking from a monster hentai cock.
A cute lolicon hentai teen bishojo washing cars naked to earn hentai fundraising money.
A busty oppai hentai milf librarian eager to try out a hung young male's cock for a bookmark.
A teen bishonen proud to show of his impressively hung monster hentai cock to the library.
A busty teen hentai sex nymphomaniac proves that with monster cock one size does NOT fit all.
A furry hentai couple demonstrates why busty neko cat girls are so fucking popular.
Two hung young boys big cocks bulging out of their pants due to a big tit milf's hentai teasing.
Two busty teen hentai girls having no problem getting some eager young cocks for a good fucking.
A little bear and little pig with monster cocks looking to make their own hentai fairy tail.
Naughty teen slut getting her busty hentai body fucked by her incest minded daddy as punishment.
Blonde futanari hentai teen finding out she's the most popular girl at all the slutty slumber parties.
The five dollar foot long monster hentai cock sandwich shops would make a lot of porn money on.
Pokemon hentai can be somewhat dangerous if you don't do your monster hentai research a head of time.
In the cartoon porn industry name recognition is everything, well that and a slutty hentai attitude.
Fashion for the busty futanari hentai babe that wants the room for her big hentai cock to be comfortable.
Busty teen female sluts keep their plushie hentai animals for their secret vibrating sex orgies.
Busty futanari hentai sluts are the one sex fits all multitool of one night stands, or two nights.
Big tits oppai hentai asian girl aliens having a burning need for hentai sex after space flight.
Goldilocks is going to have to give up more than an apology for the three hung pigs monster cocks.
Busty milf letting her experienced big tits take down a monster cocked troll for hentai points.
Cute big tits hentai farmer's daughter all washing up do her hentai chores.
Willy Wonka's penis enlargement hentai sex machine device for extra long schlongs.
Slutty oppai hentai cheerleader with big tits looking to hook up with a big cocked stud.
Busty Aunt Samantha Kotter wants your hentai cock in her MILF vagina right now, soldier.
Busty oppai hentai ecchi monster girls, the gift of big tits just keeps on giving..
Alien abductions of horny hentai teens with big tits are the the source of sex toy technology.
How to fight your monster cock hentai stud for warrior princess eroge sex game conquest and glory.
Sexy ecchi cat girls love uncircumsized monster cock hentai teen bishonen stud adventurers.
Pokemon hentai oral sex can really bite depending on your opponent's pocket monster.
Most popular flavor of ramen noodles is bishonen monster cock ronin noodles.
Busty oppai hentai elf versus troll monster cock the original hentai sex interracial porn fetish.
Busty lolicon hentai slut has a thing for big monster cocked muscle bound barbarian studs.
Busty lolicon hentai slut has a thing for big monster cocked muscle bound barbarian studs.
Angry Bitches is more sexually satisfying game of Angry Birds cartoon porn.
Furry hentai teen sex manga is a matter of trying until you find a willing sex partner.
Monster cocked Kuromaru likes gangbang hentai sex games.
Hung uncircumcized bishonen keeps his eyes on oppai hentai monster snake girl.
Science friction oppai hentai alien slut 6 of 9 getting fondled by teen sex crazed futanari dick girl.
Hung monster hentai cock Demon rum ready to fuck up a cock tail.
Oppai hentai witch answering the booty call of Cthulhu's monster hentai tentacle cock.
Cute and sexy little futanari about to get raped by a minotaur hentai monster cock.
HentaiSoft's Sex Box 69 is the ultimate oppai hentai sex game machine console
Busty oppai hentai sorceress gets her pussy destroyed by a giant monster cock.
Busty oppai hentai sorceress and her hung neko mancer furry hentai sex friend.
Monster hentai cock raping a busty oppai amazon female warrior against her will.
Hung bishonen monster cocked elf stud and his busty barbarian oppai hentai elf babe.
eenage succubus seducing her Tnerdy teen sex crazy neighbor boy with her hot body.
Little sexy binyu hentai slut getting her pussy raped by a giant's huge monster cock.
Busty oppai succubus with big tits getting gangbanged by a bunch of hentai monster cocks.
Teenage farm hand preparing to fuck the farm's oppai cow girls as part of his chores.
Sexy oppai cyborg babe and her hentai sex machine mecha requires lots of lubrication.
Human male letting his cock make decisions about tight sexy oppai hentai halfling sluts.
Good vs Evil topless hentai angel and oppai hentai succubus.
Busty black hentai girl and hung monster cocked guy in interracial porn action.
In libraries guys with monster cocks should speak softly and swing out their big dicks.
Science friction hentai pushes porn and sex to the outer limits.
Teen sex lolicon hentai is tight and requires lubrication.
Dragon's Crown porn game uses bouncy big tits and oppai hentai.
A hentai deal with the devil is likely to leave you fucked.
Marvel superhero parody monster cock hentai porn comics.
Hardcore teen sex lets new cummers go at it like horny rabbits.
Science friction hentai vibrating cock implants and busty sluts go well together.
Busty oppai hentai Star Wars porn slut being tentacle raped by the Dark Side of the force.
Sexy oppai hentai asian girl cream pied by thick gurthy hung teen bishonen's monster cock.
Busty oppai hentai school girl and hung stud about to have teen sex in the school locker room.
Marvel vs DC Comics nsfw superhero sex comic and adult ecchi hentai manga porn parody.
Ecchi oppai hentai girl with big tits about to be tentacle raped by tentacle hentai slime monster.
NSFW teen sex hentai education for public broadcasting xxx cartoon porn funding cut by the government.
Tentacle hentai monster teen and his sex crazed oppai hentai girlfriend with big tits.
Busty oppai yuri hentai bee girls paralyzing and raping a hung bishonen's monster cock.
Monster hentai cocked neko kitty fucking an oppai hentai babe with big tits' eager pussy.
Giant monster hentai cock being attacked by a sexy oppai hentai dwarf girl with big tits.
NSFW xxx Pokemon Hentai sex game where you gotta fuck them all and oppai hentai monster girls.
Monster hentai art someone's also getting raped but not necessarily the slut you would think.
Bring your own cock is what turns ecchi lesbian yuri hentai art into futanari hentai illustrations.
When it comes to oppai hentai human abductees and alien monster cock, one size does NOT fit all.
Dungeon dwelling monster cock uses female adventures as disposable oppai hentai warrior fuck toys.
Alien covenant monster cock rapes sexy human female hosts and rips their hentai pussy apart.
Rape then pillage, burning on after you've fucked all the busty big tits oppai hentai townsfolk.
Nymphomaniac oppai hentai neko cat girl sluts from space, why vagina is called pussy.
Monster cock hentai hung life, more filling that pencil dicks and takes great for a good cum stuffing.
Lolicon hentai steam punk sluts love tentacle rape sex from tentacle monster cocked Cthulhu.
Doctor Who hentai stud cruising time and space for teen sex sci fi sluts to fuck in his TARDIS.
Cyber Warfare make digital oppai hentai love not war with your busty big banana tits babe.
She-Man and the Masters of Universal Social Justice gender swap big tits oppai hentai porn
Star War oppai hentai twilek porn sex slaves satisfy all your sexual science fiction desires.
One Million Cocks BC busty big tits oppai hentai porn before history, lubrication, or condoms.